4th Mar 2021
SPACs roared to notoriety in 2020, offering individual retail investors access to venture capital-type deals previously reserved for institutions and high-value individuals. These SPACs are disruptive both in the democratization and transparency they bring to the IPO market and in the types of companies they might propel to public status. And their popularity shows no sign of waning in the first quarter of 2021.
SPACs are Special Purpose Acquisition Companies, or "blank check" companies. They are formed by sponsors with no operations of their own, raise money by selling shares and then seek to merge with an up-and-coming company within two years. The merger gives the target business public status without the cumbersome traditional IPO process, and could bring returns to the investors, who benefit from the potentially rising sharing price.
2020 saw significant sector expansion, with around $80bn raised from 237 deals, a significant rise on the approximate $13.5bn from 59 deals in 2019).1 It also saw strong performance from specific SPACs like Nikola, DraftKings and Virgin Galactic, and the first two months of 2021 have only intensified this trend. January 2021 saw nearly $26 bn raised by SPACs, a monthly record,2 with a total of $38.3 billion raised since the start of 2021.3 When you compare this to the $19.8 billion raised by traditional IPOs since the beginning of the year, you begin to understand how SPAC stocks are becoming a routine way for certain companies to IPO.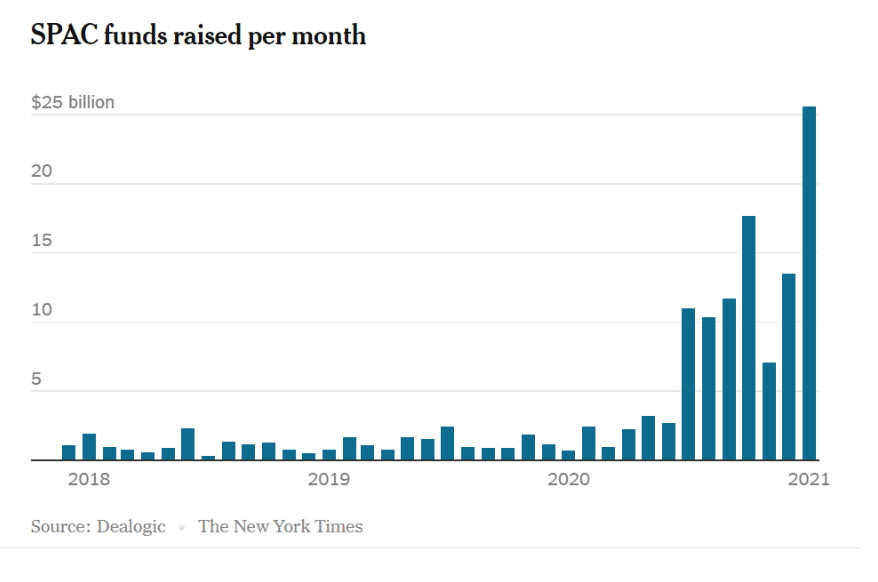 Indeed it is important to separate the glitz from the substance in the SPAC sphere right now. Yes there are numerous celebrities using their reputations to propel their SPACs. Former baseball star Alex Rodriguez announced his investment firm's $500 million SPAC, joining Shaquille O'Neal, Gary Cohn, the former Trump adviser and president of Goldman Sachs, and former San Francisco 49ers quarterback, Kaepernick, to name just a few. But the route to their success will lie in the teams they form to run the SPAC – the individuals that will select and manage the target companies.
Critics have raised concern that such celebrity sponsors stand to benefit from the SPAC process much more than individual investors who buy shares in the blank check company, and notwithstanding the potential success of the target after merger. The response, however, is that such high-profile individuals actually have a strong incentive to protect their reputations and credibility, especially serial sponsors like Chamath Palihapitiya, Michael Klein or Alec Gores. Their public accountability, combined with the growing competition in the SPAC space, should ensure fair terms and responsible deals.
Take seasoned hedge-fund manager Bill Ackman for example. He has taken action to correct the misaligned incentives in the standard SPAC deal, whereby the sponsor benefits whether or not the merger produces a successful company. His Pershing Square Tontine SPAC, which raised $4bn and is possibly the largest SPAC ever, has eschewed the typical 20% promote, delayed its rights to exercise its warrants for three years and linked its profit potential to performance criteria in the target enterprise. Pershing's shares have risen 50% despite the fact that a target has not yet been announced.
To explore competition in the SPAC space, let's consider that there are currently more than 300 SPACs worth around $100 bn, looking for appropriate target companies to propel forwards to public status.4 Such deals usually buy companies worth five times the SPAC's value, due to accompanying PIPE capital. That means that there is approximately $500 bn of buying power looking for quality and potential in the private sector. Recent SPAC merger announcements include Indonesian unicorn company, Traveloka's statement that it plans to go public in the USA via JP Morgan's SPAC, with a valuation of around $5bn;5 and online pet care marketplace Rover's declared merged with True Wind Capital SPAC, Nebula Caravel Acquisition Corp, with a valuation of around $1.63 bn and putting over $300m on the balance sheet.
And while SPACs formed since 2019 find their targets, new SPAC creation continues to boom, evoking a range of marketing strategies. Kaepernick, for example, whose fame multiplied after he "took the knee" during the national anthem, has formed a $250m "Mission Advancement" SPAC, seeking an enterprise of over $1bn with a social mission. His board consists entirely of Black, Indigenous and people of colour, the majority of whom are women.6
But the chance of Kaepernick's and other SPAC stocks' success are determined less by their social action credentials and more by the excellence of their boards. Kaepernick has joined forces with private-equity investor Jahm Najafi, and former Apple executive Omar Johnson serves as one of the directors.
Altimeter's SPAC, which is looking for a target in a secular-growth area of the technology sector, is run by top tech investor Brad Gerstner. Gerstner has invested in companies like Facebook, AirBnb and Uber. His board includes Richard Barton, co-founder and CEO of Zillow Group, Aishetu Dozie, founder and CEO of Bossy Cosmetics, and Dev Ittycheria, CEO of database company MongoDB Inc. and Director at Datadog Inc. Also consider the star team behind billionaire investor Daniel Och's AJAX I SPAC, which includes Steve Ellis, the founder of Chipotle, Jim McKelvey, the co-founder of Square, Kevin Systrom, co-founder of Instagram, and Anne Wojicki, co-founder of 23andMe.
A strong team does not guarantee success, but it does support SPACs as a credible, genuinely democratic and disruptive alternative to the IPO process. Their public accountability, combined with the growing competition in the SPAC space, should ensure fair terms and responsible deals. (Investors looking for more diversified exposure to the SPAC market could consider a SPAC ETF).
1"Will SPAC popularity burn out in 2021?"December 28, 2020
2"Why SPACs Could Leave Investors in the Cold," February 10 2021.https://www.nytimes.com/2021/02/10/business/dealbook/spac-wl
3"The SPAC Boom, Visualized," Elliot Bentley, February 10, 2021. https://www.wsj.com/articles/the-spac-boom-visualized-in-one-chart-11612962000
4"Why SPACs Could Leave Investors in the Cold," February 10 2021. https://www.nytimes.com/2021/02/10/business/dealbook/spac-wall-street-deals.html
5"Traveloka selects JPMorgan for US IPO through SPAC," Deepti Sri, 11 February 2021. https://www.techinasia.com/report-traveloka-selects-jpmorgan-us-ipo-spac
6"Colin Kaepernick is getting in on the SPAC game – and is hunting for a $1 billion firm with a social purpose,"Harry Robertson, February 10, 2021. https://www.businessinsider.com/colin-kaepernick-spac-blank-check-company-social-purpose-mission-advancement-2021-2